Anna Wilkinson, PhD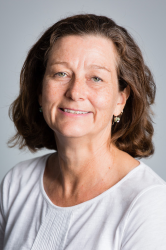 Associate Professor, Epidemiology, Human Genetics & Environmental Sciences
anna.v.wilkinson@uth.tmc.edu
Anna Wilkinson, Ph.D. joined the Michael & Susan Dell Center for Healthy Living and the UT School of Public Health, Austin Regional Campus in July 2010, where she is an Assistant Professor in the Division of Epidemiology, Human Genetics and Environmental Sciences. She earned her Ph.D. in community psychology from The University of Texas at Austin in 1996. After completing her PhD, she moved to Kansas to work at the Kansas Health Institute for four years. In 2000 she moved to Houston Texas to join the James A. Baker Institute for Public Policy at Rice University and in 2003 she joined the faculty in the Department of Epidemiology at UT MD Anderson Cancer Center in Houston.
Anna Wilkinson's research focuses on the primary prevention of tobacco and alcohol use as well as obesity prevention and the promotion of physical activity among youth and young adults. She is interested in the relative role that individual-level factors (such as subjective and objective social status, sensation seeking tendencies), social factors (such as norms, family / peer behavior, and the built environment), and genetic factors may play in shaping these behaviors. In 2008, she received a Career Development award from the National Cancer Institute to study the interactions between, and relative influence of, non-genetic and genetic determinants of smoking initiation and physical activity.
Currently she is involved in the Texas-based evaluation of SNAP-ED, and serves as a co-investigator on three NIH-funded project that examine tobacco use behaviors among youth and young adults, with a focus mental health.
Research Interests – Health disparities and immigrant health; tobacco prevention and cessation; promotion of physical activity and obesity prevention; bio-behavioral epidemiology.
Current Projects

Texas SNAP-Ed Evaluation, is a two-year project to evaluate, on a statewide basis, the effectiveness of SNAP-Ed nutrition education and obesity prevention programming activities delivered by Implementing Agencies throughout the state of Texas.
Recent Publications
Loukas A, Marti CN, Pasch KE, Harrell MB, Wilkinson AV, Perry CL. Addiction. 2022 Jan;117(1):216-223. doi: 10.1111/add.15616. Epub 2021 Jul 5. PMID: 34159679; PMCID: PMC8664970.
(Ake, J. F., Lin, J., Wilkinson, A. V., Koehly, L. M. (In Press). Preventive Medicine.)
(Swann, A. C., Graham, D. P., Wilkinson, A. V., Kosten, T. R. (In Press). American Journal on Addictions.)
(Harrell, M. B., Chen, B., Clendennen, S. L., Sumbe, A., Case, K. R., Wilkinson, A. V., ... & Perry, C. L. (2021). Preventive Medicine, 106670.)
(Bataineh, B. S., Wilkinson, A. V., Case, K. R., Clendennen, S. L., Sumbe, A., Chen, B., & Harrell, M. B. (2021). Tobacco Prevention & Cessation, 7.)