Arnold Kuk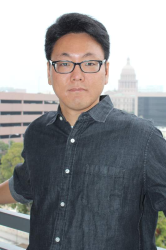 Research Assistant II
arnold.e.kuk@uth.tmc.edu
I am a Research Assistant II for the Population Assessment of Tobacco and Health (PATH) Project and am also helping with the Texas Sprouts Evaluation Project.
Prior to joining UTHealth, I worked as a graduate research assistant at Krannert School of Management and as a graduate assistant at the University of Connecticut.
In my free time, I enjoy hiking, listening to music, and trying East and Southeast Asian foods.