Tosa Nixon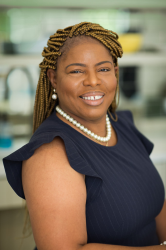 Academic and Admissions Advisor II
Tosa.Nixon@uth.tmc.edu
Tosa is an Austin Native and has worked for the State of Texas for 26 years. She joined the UTHealth School of Public Health in Austin in January 2008. Her duties include:
Coordinating and monitors activities to recruit and matriculate students, including recruitments.
Develops, coordinates, and delivers information sessions for existing and prospecting students.
Serves as main point of contact for prospective students, assist with admission and registration process.
Assist with student activities, including new student orientation, commencement, open house and receptions.
Meets with students in assigned academic programs and provides guidance and counseling with course goals.
Assists students in the development of academic plans to meet educational and professional goal
Monitors students' academic progress, update student records.
Coordinates the advising process with faculty academic advisors, departments, and regional campuses.
Current Projects