Heather Atteberry, MPH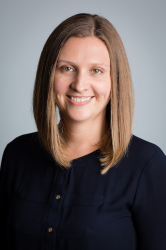 Grants & Contracts Specialist
Heather.N.Atteberry@uth.tmc.edu
Heather Atteberry is the pre award grants and contracts specialist for the Center and Austin Campus.
Heather received her Masters of Public Health from The University of Texas Health Science Center at Houston School of Public Health and started at the Center in November 2007 as a graduate research assistant. She has coordinated the implementation and evaluation for multiple projects (Active Play-Active Learning Project, T-COPPE, SPAN 2009-11, and Texas CORD), and previously held the position of Center Coordinator where she provided administrative and research support for the Center Director and Center leadership.
Heather is responsible for pre award grants and contracts tasks. She works with Center faculty to submit their research grants and contracts, and is the liaison between faculty and Sponsored Projects Administration in Houston.
Current Projects

The purpose of the School Stakeholder Interview Project (SSIP) was to learn about school stakeholder preferences and priorities to improve Center strategies for recruiting and retaining research study schools and participants, as well as to guide future projects.
Recent Publications
(Nichols D, Dowdy D, Atteberry H, Menendez T, Hoelscher DM; Texas Public Health Journal; 2017)