Martha Diaz Marin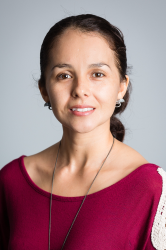 Research Assistant II
Martha.P.DiazMarin@uth.tmc.edu
Martha Diaz Marin is a Community Health Worker for the University Of Texas Health Science Center at Houston School Of Public Health in Austin and the Michael & Susan Dell Center for Healthy Living.
She currently works with the GAVA(Go Austin!/¡Vamos Austin!) Evaluation team on data collection and data entry. She works closely with the families and schools that are currently under this project and hopes to improve access to healthy eating and physical activity in the Dove Spring area and zip code 78745.
Martha was born in Mexico, is happily married and is a mother of three children. She enjoys Zumba, yoga and the books by author Gabriel Garcia Marquez.
Current Projects

The STREETS Study (Safe TRavel Environment Evaluation in Texas Schools) is a five-year (2018 – 2023) natural experiment that is evaluating the City of Austin Safe Routes to School program.

Food Retail: Evaluating Strategies for a Healthy Austin (FRESH-AUSTIN) aims to further evaluation of the City of Austin's Healthy Food Access Initiative, and increase understanding of the complexities within a community food system.