Sarah Macias, MPH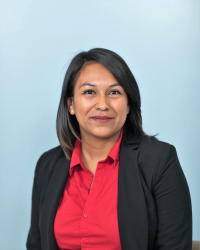 Research Assistant II
Sarah.Macias@uth.tmc.edu
Sarah is a Research Assistant II for the SNAP-Ed Evaluation Project. She joined the Center in 2016 as a data collector for the GAVA project that turned into a Graduate Research Assistant position for the 2016-2017 academic school year. Her new role focuses on assisting with the evaluation of the SNAP-Ed project across Texas.
Before working at the center, she attended the University of Texas at Austin where she received a Bachelor's degree in English and minor in Biology and Chemistry. While pursuing a certificate with the Bridging Disciplines Program in Social Inequality, Health & Policy, she worked as an undergraduate research assistant in the Prevention Research Lab. The experience gained from that lab led her to a brief stint as a Media Research Assistant with a Marketing and Research company in Austin. It was during that time that she realized her real interest lay in how the made environment affects a person's behavior and health. She received her Masters of Public Health in Epidemiology from the University of Texas Health Science Center at Houston School of Public Health in Austin in May 2017.
Outside of work, Sarah likes to travel, play tennis badly, listen to podcasts on the treadmill, read, and visit family.
Current Projects

Texas SNAP-Ed Evaluation, is a two-year project to evaluate, on a statewide basis, the effectiveness of SNAP-Ed nutrition education and obesity prevention programming activities delivered by Implementing Agencies throughout the state of Texas.