June Healthy Summer Challenge
Published: June 6, 2022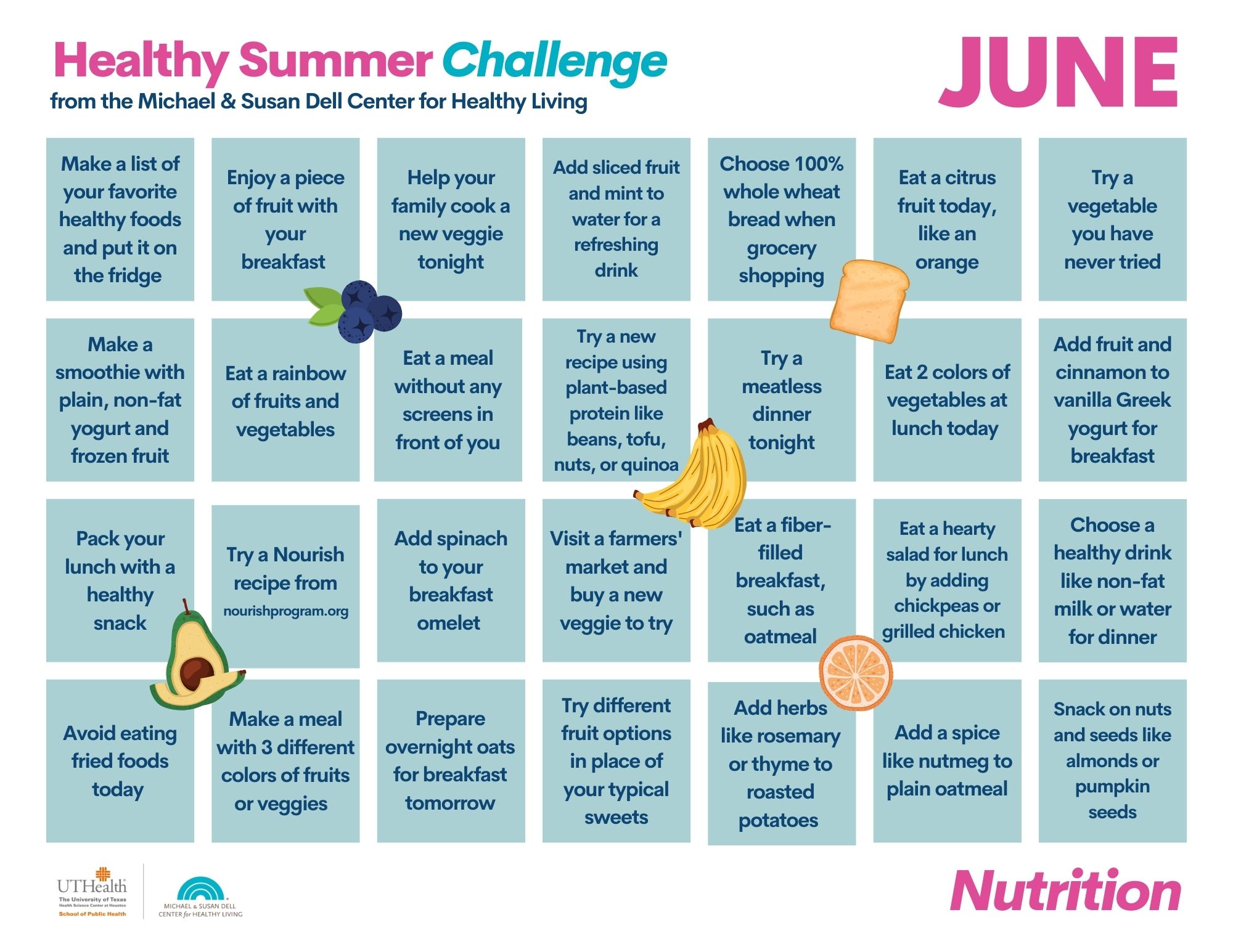 Summer break is finally here! We know that without the structure of school, it can be hard to keep healthy routines in place. Kids often spend more time in front of the screen, become less active, and choose unhealthy snacks throughout the day. Each month this summer, the Michael & Susan Dell Center for Healthy Living is advocating for creating healthier habits with our Healthy Summer Challenge calendars.
This month, we're starting with nutrition. We have 28 ways for your family to make nutritious swaps and choices, check out three of our favorites:
Add sliced fruit and mint to water for a refreshing drink -

It's

important to stay hydrated during the hot, summer months. Instead of grabbing a soda or sugary beverage, try adding sliced fruit or cucumber and mint to water.

It's

the perfect thirst-quencher after playing outside, without added sugars! Try different fruits and herbs like lemon, strawberry, and basil for a different flavor.

Visit a farmers' market and buy a new veggie to try - Going to a farmers' market is

a great way

to get your kids out of the house and learning about their food.

In Texas,

you'll

find

delicious tomatoes, peppers, corn,

and eggplant this time of year

. Find a recipe using a new vegetable from the farmers'

market and

cook together as a family.

Try different fruit options in place of your typical sweets - Summer is the best season for juicy and sweet fruits. Berries, cherries, watermelon, and peaches are in season, and they are a great snack! Have fruit washed and ready in the fridge for when kids want to grab a sweet snack. Bonus points if you buy them at the farmer's market!
Joining our challenge to create more balanced meals this summer is easy. Download our pdf below, print it out, and hang it up somewhere you and your kids can see. With each completed challenge, cross it off or put a sticker on it, and see how many you can do this month! We'd love to hear how you're staying healthy this summer, so follow and tag us on Facebook, Instagram, and Twitter!
---