Bike to Work Spotlight: Kevin Lanza
Published: May 17, 2019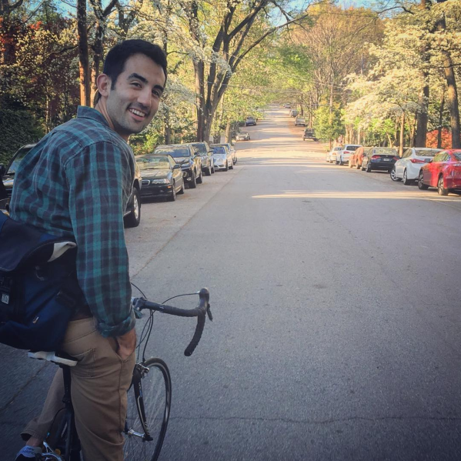 Kevin Lanza, PhD, MCRP, is the Michael & Susan Dell Center Post-Doctoral Fellow and helps to promote physical activity of children.
In his spare time, you can find Dr. Lanza running on the hike-and-bike trail or eating tacos. In celebration of Bike to Work Day, Dr. Lanza shares how he got started biking to work and some tips for beginners.
When did you start biking to work?
I first started bike commuting in fall 2013 when I matriculated as a graduate student at Georgia Tech. The majority of students in the City and Regional Planning program took alternative commutes (i.e., walked, biked, and/or took the bus) to school, and I enjoyed this camaraderie. As an urban planner concerned with improving the environment and public health, I came to understand the benefits of swapping driving for biking, in particular the use of my own energy, rather than fossil fuel, to power my commute. The cost savings of biking over driving were also an incentive to bike, especially while in grad school!
How has biking in Austin compared to biking in Atlanta?
As two southern, forward-thinking cities facing rapid development, Austin and Atlanta have put forth concerted efforts to find alternatives to the car commute. This past fall, the City of Atlanta Department of City Planning hired a Chief Bicycle Officer to strengthen Atlanta's standing as a bike-friendly community. Although new to Austin, I have immediately noticed the dense network of bike lanes that covers the intown neighborhoods. There is a strong bike culture in Austin, which I've enjoyed at Social Cycling ATX's Thursday Night Social Ride and Phenom Cycle Club's Tuesday Teardown. I'm excited to learn more about how the nonprofit organization Bike Austin advocates for bicycling through education and outreach across the city. I do miss the vast amount of tree canopy found in Atlanta, which is called the City in a Forest for its lush greenery. I less so miss the hilly terrain of Atlanta, something I do not encounter when biking from East Austin to downtown.
How do you stay committed to biking? Do you have alternates in case of bad weather?
What keeps me on my bike are the 1) financial savings, 2) fitness gains, 3) mental health benefits, and 4) zero emissions. Regarding weather, I check the forecast every morning. If there is a 50% chance of rain or greater, I will take the bus to work. I love that The University of Texas has partnered with Capital Metro to provide free and unlimited bus access to students, staff, and faculty. I have yet to experience the heat of a Texas summer, but am thinking of biking to work in athletic clothes, showering, and changing into work attire.
What tips do you have for someone considering biking to work for the first time?
My first three tips are to wear a helmet, invest in a high-quality bike lock, and learn how to change a tire. Before attempting your first bike commute, I recommend mapping your route on Google Maps, checking the weather forecast, and understanding the steps after arriving at your place of work (e.g., will you want to shower after the ride and is there a shower available, is there a fan to cool off, can you store your bike in a location safe from theft, and should you bring a change of clothes). When mapping your bike commute, aim for the most bike-friendly route, which for me, is one with a bike lane, shade trees, and the least number of traffic lights.
What have you learned about Austin through your bike commute?
Each mode of transportation—whether it be car, bike, or on-foot—offers a unique view of your surroundings. When biking, I've noticed the number of crows and doves that fly around the city and rest on its power lines, the energy of the city during rush hour, and the amount of litter thrown to the side. Fortunately, the nonprofit organization Keep Austin Beautiful offers volunteering opportunities and cleanup supplies to beautify and restore our public spaces.

Dr. Lanza's research investigates the link between environmental characteristics, both built and natural, and physical activity. He comes to the Center with a master's and PhD in City and Regional Planning from the Georgia Institute of Technology, where as a member of the Urban Climate Lab, he measured the urban heat island effect and modeled its public health implications. His dissertation focused on the impact of summer heat on physical activity levels of adults. He believes the Michael & Susan Dell Post-Doctoral Fellowship program will help him reach his career aspiration of becoming a professor who explores how multi-use infrastructure can moderate temperatures and promote physical activity among urban residents.
---