Benjamin Cristol, MPH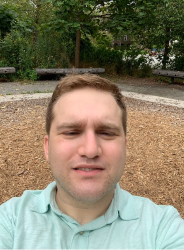 Research Assistant III
Benjamin.a.cristol@uth.tmc.edu
Benjamin Cristol is a Research Assistant for the CATCH My Breath (CMB) e-cigarette prevention program. He supports the CMB team with literature reviews, study data collection and analysis, and manuscript development.
Ben attended Washington University in St. Louis as an undergraduate and earned a B.A. in Political Science in 2014. He completed his MPH in Epidemiology in December of 2021. During the master's program, Ben completed a practicum on the ACTIVE TEXAS 2030 statewide physical activity initiative and completed a year as a graduate research assistant on the CMB project.
His primary research interest is in substance use epidemiology, specifically tobacco, e-cigarettes, and cannabis. Ben would also like to explore chronic disease epidemiology and gain further expertise in software programming. He plans to matriculate into the Epidemiology PhD program in Fall of 2022.
Outside of work, Ben enjoys podcasts, cooking, and taking long walks with his dog Sasha.
Current Projects

CATCH My Breath (CMB) is a middle school e-cigarette prevention program originally designed as a rapid response to the emerging teen vaping trends.