Shreela V. Sharma, PhD, RD, LD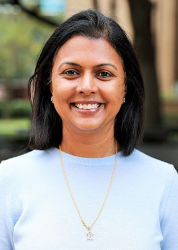 Professor, Epidemiology, Human Genetics & Environmental Sciences
Co-Director, Dietetic Internship Program
shreela.v.sharma@uth.tmc.edu
Dr. Shreela Sharma is Professor of Epidemiology at the University of Texas, School of Public Health in Houston, TX. Dr. Sharma is a behavioral epidemiologist with specific interest in food insecurity, nutritional epidemiology and diet-related chronic diseases in vulnerable, underserved populations and has a robust, federally-funded research program in this area. Dr. Sharma has led several different studies to develop and evaluate the CATCH (Coordinated Approach to Child Health) program, including CATCH Early Childhood proven to improve obesity prevention among at-risk preschool age children, and the NIH-funded CATCH Healthy Smiles for oral health promotion to prevent dental caries among elementary age children.
More recently, Dr. Sharma is engaged in several COVID-19 related projects including a Texas state-wide COVID-19 Symptom Tracking initiative, conducting rapid analysis of COVID-19 data for the Texas Medical Center, and the local health departments, developing resources such as www.texaspandemic.org, an interactive COVID-19 dashboard providing real-time assessment of the spread of COVID-19 in Texas, assessing the impact of COVID-19 and the related financial crisis on employment, food security, and other social needs among vulnerable populations in Texas, and providing recommendations for public health decision-making. As part of these efforts, Dr. Sharma is co-investigator for the NIH-funded RADx project to increased uptake of COVID-19 testing in high-risk Texas communities.
Dr. Sharma is committed to serving the community; she is co-founder and principal investigator in the evaluation of Brighter Bites, a nationwide non-profit dedicated to providing fresh produce and nutrition education to low-income children and their families. She serves on the Board of Directors for the University of Houston Friends of Women's and Gender Studies Program. On behalf of UTHealth, Dr. Sharma co-leads the Greater Houston Coalition on Social Determinants of Health, a Harris-county wide effort focused on mitigating food insecurity and other social determinants of health among its residents. She has a PhD in Epidemiology with a minor in biostatistics, and is a registered dietitian in the state of Texas.
Current Projects
This project is a collaborative effort to impact eating behavior among predominantly low-income families by introducing them to a routine distribution of fresh produce and corresponding education, ultimately to curb the childhood obesity epidemic.

ENRICH stands for Encouraging Nurturing Responsiveness to Improve Child Health. This research project works to help parents establish healthy eating, activity, bedtime, and screen time routines.

CATCH Healthy Smiles teaches students why toothbrushing, flossing, dentist visits, and healthy food and drink choice are important to oral health. Students will learn and practice the skills necessary to maintain healthy smiles.
CATCH is a research-based program designed to guide schools, families and children in healthy eating and physical activity.

This project is a clinic-community based intervention to implement an early life-cycle approach to obesity prevention among pregnant women and women with infants from low-income families.
Recent Publications
(John, J., Swartz, M. D., Hoelscher, D., Huber, C., & Sharma, S. (2019). Journal of occupational and environmental medicine.)
(McWhorter JW*, Raber M, Sharma SV, Moore LS, Hoelscher DM. J Academy Nutrition Dietetics. 2019; 119(2):199-201.)
(Hoang, Thanh T., Yunping Lei, Laura E. Mitchell, Shreela V. Sharma, Michael D. Swartz, D. Kim Waller, Richard H. Finnell et al. The Journal of nutrition 149, no. 2 (2019): 295-303.)
Verghese, Anila, Margaret Raber, and Shreela Sharma. Preventive medicine (2018).
(McWhorter JW, Raber M, Sharma SV, Moore LS, Hoelscher DM; J Academy Nutr Dietetics; 2018)
Recent News

Shreela Sharma, PhD, RDN, answered listener questions about the COVID-19 vaccine on Houston Public Media's Town Square (25 minute mark).

Despite the proven effectiveness of smartphone contact-tracing applications in reducing COVID-19 cases and deaths, Americans seem to have little interest in using the programs.
A rise in COVID-19 cases has health care officials and government leaders pleading with Houstonians: Act now to prevent, or at least minimize, a third wave of infections across Greater Houston.

Houston-area COVID-19 numbers, which declined significantly in late summer, are creeping up again, a concern given the spike predicted when the weather turns colder and people gather indoors for the holidays.

Could a snip of hair or a pinprick of blood be all that's standing between you and a highly optimized version of yourself?