CATCH Healthy Smiles

CATCH Healthy Smiles is a school-based program that is designed to provide students with the knowledge and skills they need to reduce dental caries. In the program, students learn about why toothbrushing, flossing, dentist visits, and healthy food and drink choices are important for oral health. In addition to the classroom curriculum, students will learn and practice the skills necessary to maintain healthy smiles during a weekly classroom-based toothbrushing routine.
The program includes:
5 interactive TEKS-aligned lessons with 40+ coordinating extension activities and PE supplemental activities for kindergarten, first grade and second grade
Parent resources with smile care tips, videos, and at-home activities
A digital platform with easy access to curriculum and supporting materials for teachers
The CATCH Healthy Smiles program is designed to prevent tooth decay for students in kindergarten through 2nd grade. Throughout the program, students will learn about the major factors that cause tooth decay and what they can do to maintain a healthy smile.
The program is designed to help students:
Discover the causes of tooth decay, including dietary choices and poor oral health habits
Develop skills for brushing, flossing, and choosing tooth-healthy foods & drinks
Recognize the importance of regular dental visits
Create personal oral health care goals
CATCH Healthy Smiles is designed to influence the following social, behavioral and psychological factors:
Supporting the norm that everybody takes care of their teeth by brushing, flossing, and visiting the dentist
Develop the knowledge that hygiene habits, food & drink choices and dental check-ups influence oral health
Creating positive oral hygiene attitudes and beliefs
Developing the skills needed to properly brush and floss teeth
Developing the skills needed to choose tooth-healthy foods and drinks
The intended behavioral outcomes are to ensure that students will:
Use the proper technique to brush their teeth for two minutes at least twice a day with help from an adult
Use the proper technique to floss their teeth at least once a day with help from an adult
Visit the dentist twice a year
Choose water to drink and tooth-friendly foods like crunchy vegetables and fruits to eat
The CATCH Healthy Smiles program components are:


Curriculum
Five 25-minute classroom sessions for each grade level from kindergarten-2nd grade with PowerPoint presentations and printable vocabulary word walls
40+ TEKS-based extension activities per grade level designed to reinforce the classroom sessions and deepen understanding
9 PE Supplemental Activities to extend knowledge into the Physical Activity classroom
2 CATCH Healthy Smiles Videos for use in the classroom
Visual materials: posters, vocabulary word wall printable, & stickers
Toothbrushing Routine:
We will provide toothbrushes, toothpaste and all of the storage and cleaning materials you will need to work with your students to build toothbrushing skills at least once a week and ideally several times a week.
The Teacher Success Toolkit is designed to help teachers plan a successful toothbrushing routine
Training:
Educator training on how to implement the curriculum and toothbrushing routine
CATCH Healthy Smiles Champion training designed to help your CATCH Healthy Smiles Champion lead the program implementation on site
A Teacher Success Toolkit to help teachers plan a successful toothbrushing routine
This Coordination Guide to guide a school-wide approach to oral health promotion
A Teacher Feedback Survey to guide further development
Technical assistance for the digital implementation of CATCH Healthy Smiles at your school
Ongoing support and resources via the CATCH Healthy Smiles Teacher Facebook Group
Parent Outreach Materials:
Parent Fact Sheets, Infographics and At Home Activities in English and Spanish
Sample parent outreach messaging
Oral health care goal sheets to be sent home with students and completed with a guardian
Videos to reinforce learning at home
Slides to present the program to your community or SHAC
Parent social media page to engage parents in oral health-related topics
School-Wide Engagement:
Sample morning announcements about oral health care
Family Fun Night Guide to highlight oral health care during school events
Posters for the classroom, bathroom and cafeteria
Labels for the cafeteria food line to highlight tooth-friendly crunchy vegetables and fresh fruits
Bulletin Board themes with printable materials to showcase oral health care themes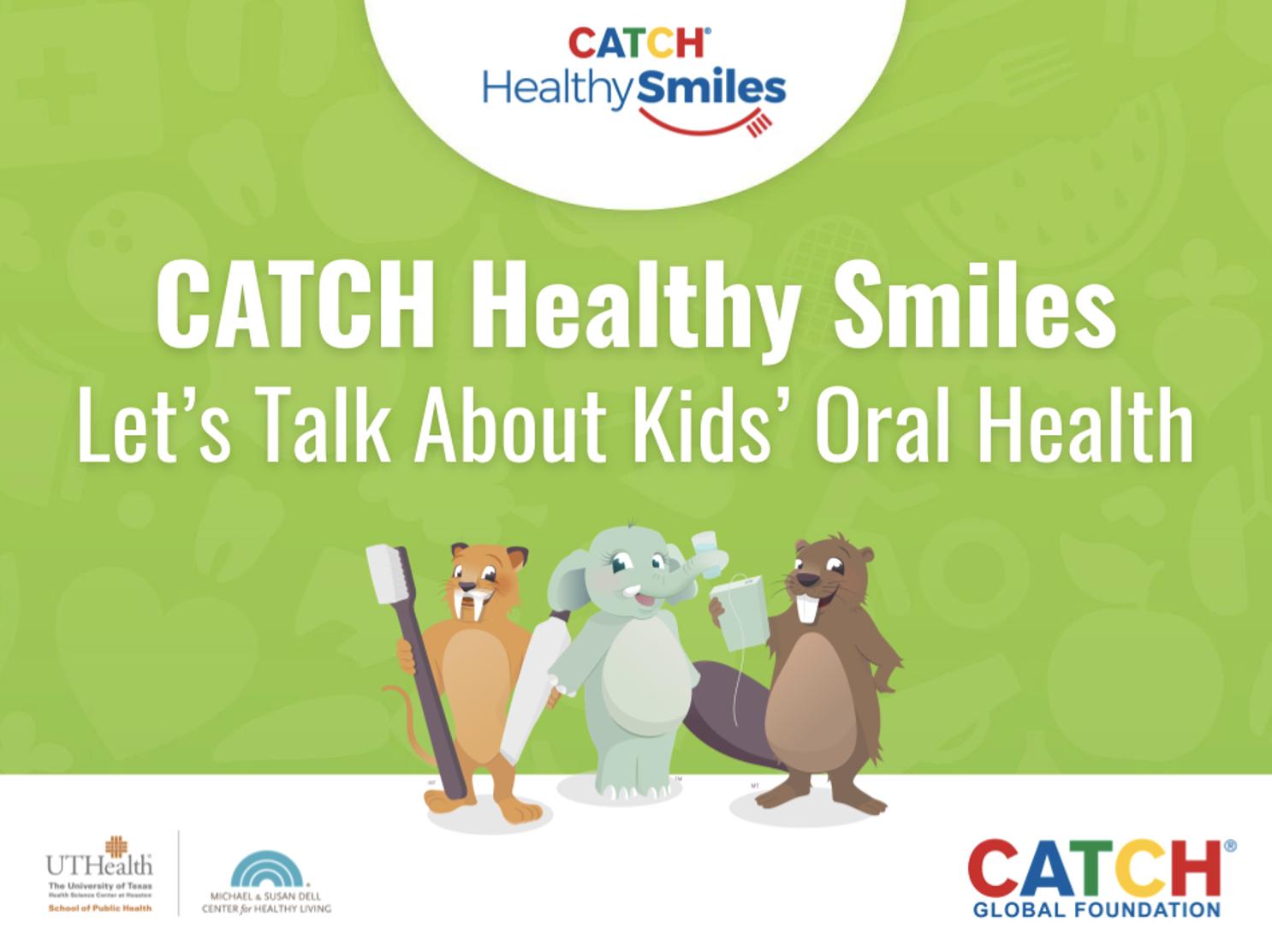 Did you know that tooth decay is the most common childhood disease? In addition to causing serious discomfort, poor oral health in childhood can lead to disfigurement, infections, and impaired language development.